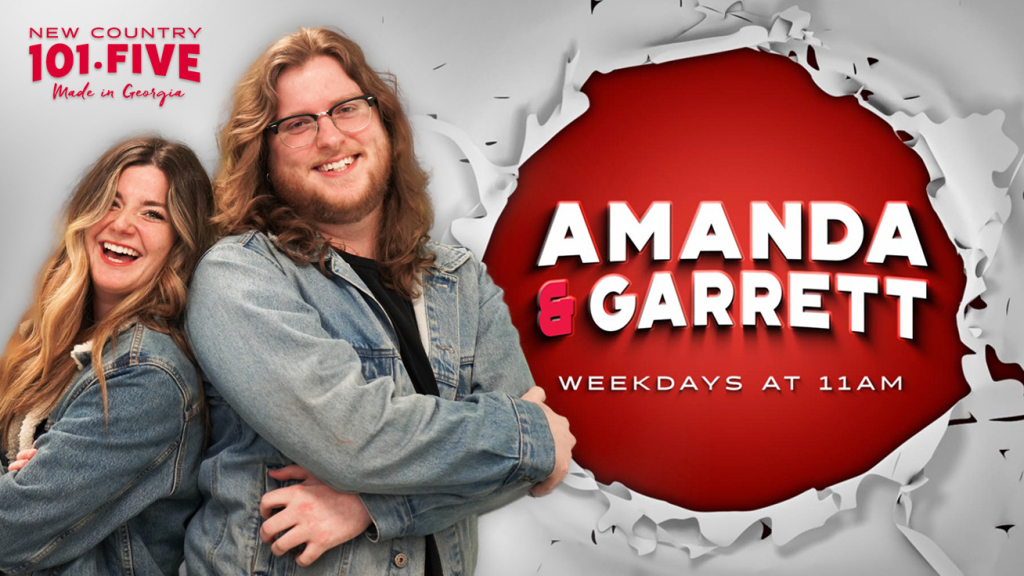 Meet our mid-day crew! You first heard Amanda and Garrett on the morning show with Kincaid and Dallas. Or maybe you got chatted up by them at one of our events. This funny pair are still part of the city's best Country music morning show, but now they also helm the 11 am to 3 pm weekday timeslot.
Hosted by our favorite local 20-somethings, the Amanda & Garrett show will surely brighten your mid-day.
Amanda
Hey, it's Producer Amanda! Lover of small coffee shops, cats and binge-watching Netflix. I'm from a small town in Georgia and a family of 6! I have two nieces and a nephew who currently fill the place in my heart made for children, along with a boyfriend I love very much! I graduated from Kennesaw State University, which eventually led me New Country 101-FIVE and working with the incredible team of Kincaid, Dallas and Garrett. When I'm not at work, you can usually find me out with my dog, shopping at Target or making pasta at home. If you want to find me on Instagram, you can at @okayamaanda.
Garrett
What's up y'all! I'm "Good Times" Garrett Loudin, Kincaid & Dallas resident party guy and self-proclaimed chill dude. Born and raised in Woodstock, I started my radio adventure fresh out of high school back in 2014. Somehow, I was lucky enough to land a gig working with the three funniest people I've ever met, and now I get to spend every morning making y'all laugh with Kincaid, Dallas and Producer Amanda! When I'm not goofing both on and off the air with my best friends, you can usually find me bringing down the house at my favorite karaoke bar, referencing obscure Lord of the Rings trivia or splitting a Chili's 2 for $25 with my girlfriend.