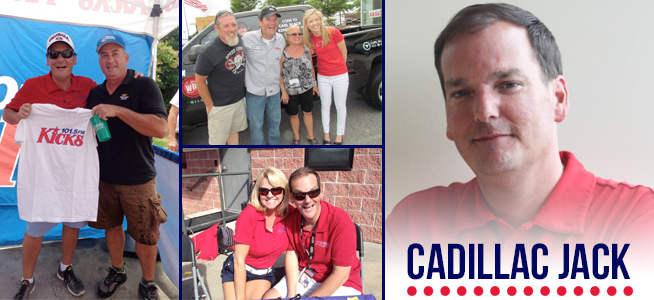 MEET CADILLAC JACK!
Cadillac just marked his 20 year anniversary with KICKS 101.5 in March 2013.
He was hired as evening host of "Crying, Loving or Leaving" when he was 20 years-old.
After years as afternoon host on KICKS, Cadillac Jack was cast as the anchor of morning drive in 2005.
Caddy (as he is called in casual circles), has dabbled in television – appearing as TV news report "Ted Philips" on ABC's "Hope and Faith" and also won an Emmy Award for hosting ABC's "The Road to the CMA Music Festival."
Cadillac is married to Donna (a 15 year KICKS account rep vet) and they have three children: Wil (14), Olivia (9) and Charlotte (7).
The family attends NorthPoint Community Church in Alpharetta and resides in Milton
Check out some pics of my family: